The following article lays out the case for reducing the speed limit to 30 kph in Limerick city centre. A 30 kph speed limit is a key element in creating a safe, people-friendly urban environment.
The Georgian core in Limerick is made up of three long parallel streets intersecting with 10 shorter streets. Two of the longer streets O'Connell street and Henry have one-way traffic moving in two or more lanes. These long straight dual lane one directional roads encourage drivers to drive fast making junctions unsafe and unpleasant for cyclists and pedestrians. Motorists will often drive to the capacity of the road in front of them rather than the prescribed speed limit. Henry Street is a three lane one directional road running right through the city core. When viewed from behind a steering wheel it is a wide-open street that you can move through quickly (if you catch a flow with the lights)  but when viewed from the seat of a bike it is a tricky street to navigate, particularly with younger or more vulnerable cyclists. Older pedestrians and people with mobility issues can also find junctions difficult to navigate. These difficulties on what is a main artery surely act as a deterrent for potential cyclists that might have to traverse the city as part of their commute.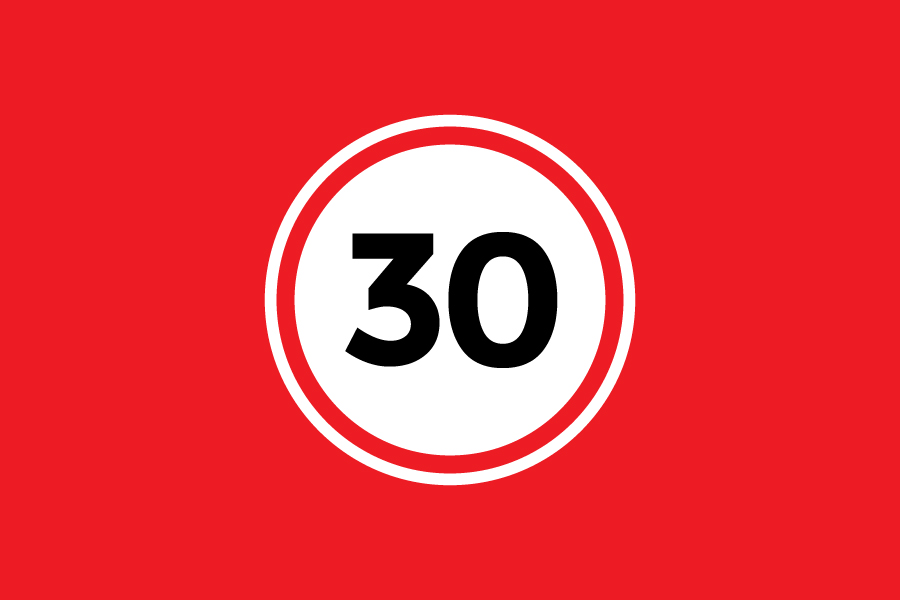 It goes without saying that speed limits on our roads have been a major topic of debate over the last few years. Recognition at EU, National level in conjunction with advocacy campaigns such as love30.ie has meant attention has been brought to bear on an issue that has a serious impact, not only on road users safety but also on the liveability of our urban spaces.
Regarding the safety of vulnerable road users (VRUs, also known as pedestrians and cyclists), it has been proven that where 30 kph zones are introduced the number and severity of accidents is reduced considerably. The exponential increase in the percentage of fatalities relative to speed is clearly illustrated in the following graphic.
Secondly, lower speed limits have a positive impact on noise and air pollution. A speed limit of 30 kph reduces traffic noise by up to 43% (3 dbA). In addition to noise pollution, reduced speed limits also contribute to lower CO2 and NOx emissions. These positives impacts in terms of both noise and air pollution lead to a reduction in general health issues and costs.
Furthermore, a 30 kph speed limit is an important element in creating liveable urban spaces that are people-friendly. A street with fast-moving vehicular traffic is not one that is conducive to social interaction and is quite a hostile environment. Limerick's city centre streets need to embrace human scale rather than catering for fast-moving through traffic. If a city centre street is designed to push through as many motor vehicles as possible then it's not going to be somewhere where people will want to spend time and interact.
The growing number of cities around the world that are introducing 30 kph speed limits is a testament to the growing awareness of the negative impacts that speed has on our urban environments.
The growing number of cities around the world that are introducing 30 kph speed limits is a testament to the growing awareness of the negative impacts that speed has on our urban environments. Cities such as Dublin, Paris, Edinburgh, London, Valencia and Milan all have extensive 30 kph zones in place. The introduction of reduced speed limit zones has proven to dramatically decrease the number of pedestrian injuries. London, for example, has seen a 42% reduction in injuries in boroughs where a 20 mph speed limit has been introduced.
The numerous benefits of introducing reduced speed limits are undeniable – from the environment to public health to the liveability of our urban spaces. Limerick Cycling Campaign views a 30 kph speed limit in the city centre in conjunction with traffic calming measures as a key element in creating a people-friendly, liveable urban environment that is safer for vulnerable road users.  
Recent News & Events