Stuck in relying on a limited business model
Physical shops and business have a limiting factor to their revenue: how many people visit them. As a business owner looking out the window, wondering if the next person will turn in and open the door, it can be hard to face online competition, rents, wages, utilities and taxes.
If we rely on nearby on-street car parking spots as the core feature of our city centre, then we're unfortunately trapped in a limited business model. We're hoping that customers will drive to the city centre and find a nearby on-street car parking spot. However, those spots are often already occupied by staff, workers and customers of other businesses.
Retailers may understandably overestimate the importance of the car. A survey conducted in spring 2015 in Lea Bridge Road, Waltham Forest near London showed that businesses believed that 63% of their customers arrived by car; a survey of visitors to the street revealed that only 20% had arrived by car.
The limited environment fundamentally based on a scarce resource of street space for car parking cannot support growing thriving businesses. It's a losing battle, and unfortunately, we've seen many Limerick City centre retailers closing over the past number of years.
Self-reinforcing retail growth through leverage of relatively limitless transport
There is an approach that unlocks revenue for our city-centre retailers, only limited by the size and wealth of the population of the city as a whole. That approach focuses on attracting people to the city centre, spending time and money in more of our establishments. By leveraging our existing multi-story car parks, and facilitating the relatively limitless forms of transport of walking and cycling to and within the city centre, we can unlock the growth of our valued retailers. This self-reinforcing growth means that people spend more money in more shops.
We're partnering with Limerick Pedestrian Network
We at the Limerick Cycling Campaign, in partnership with the Limerick Pedestrian Network, are here to help with achieving a thriving Limerick City.
Best practice findings for increased retail through walking and cycling
Transport for London has examined the economic benefits of a self-reinforcing city business model. They found that twice as many people walked to the high street than drove. The number of people cycling was 50% higher than driving. And those people who walked and cycled spent up to 40% more over a month than those driving to the high street. In other words, they visit retailers more often and overall spend more money. (Reference: Economic benefits and economic benefits summary pack PDF).
A "sticky" street is simply a street where people want to stay. Research for Transport for London found economic benefits in adapting streets for walking and cycling, over on-street parking. Happy streets enable social life, encourage people to meet there, and the businesses on those streets benefit. It was found that improving streets for walking and cycling led to 216% increase in people stopping, sitting or socialising. In other words, they leveraged the network effect of more people spending more time at more retailers.
Walking and cycling are practically limitless forms of attracting people to the city centre. The Dutch city of Utrecht shows how this can be done, with 125,000 people accessing businesses and education by bike every day. Across Europe we can see the successful city business model of enticing young and old into city centres, encouraging them to spend more time there more often, with retailers able to thrive on increased footfall.Click edit button to change this text.
Not car-free, but people-first spaces
We are advocating for traffic-reduced places, not a car-free city. The focus is on enabling people to get to the city centre more often, and encouraging them to stay around and shop. We can get a taster of such success from Dublin, Galway and Cork.
In Dublin, Dublin Town business group saw retail up 10-15% on Suffolk St since it was pedestrianised in 2018 (Irish Examiner). In 2020, Dublin City Council has shown leadership in adapting public space to revitalise the city centre, including planters and streets, the widening of footpaths, and the fast introduction of cycling routes.
Shop Street in Galway was once known for its traffic congestion (Irish Times), but has been transformed through a constant process of renewal and reinvention. In that article, Eoin McCambridge of McCambridges specialist delicatessen said, "The face of the business is now on the street, rather than behind the doors. It's great for people-watching too."
Oliver Plunkett Street in Cork is a traffic-reduced street. "We sometimes have to search for the DNA of a street, but Oliver Plunkett Street exudes it: it's a vibrant, living street and community, full of little surprises and it is clearly on an upward trajectory", said Geoff Haslam of the Great Street Award (Irish Times). The street is known for its multi-generational long-standing local retailers.
Transport for London has used a "Healthy Streets Approach". The approach puts people, and their health, at the heart of decision making. This results in "a healthier, more inclusive city where people choose to walk, cycle and use public transport". People feel safe, and therefore more at ease, which may lead them to spending more time in the city. Their research found that such improvements resulted in a 7% per annum fall in vacancy rates, showing that businesses there improved their resilience (PDF).
We advocate the use of filtered permeability to maximise the access of walking and cycling on streets, while reducing access to motor vehicles at specific locations. Filtered permeability is an approach of restricting motor vehicle access, while allowing full access for people walking and cycling. The city of Groningen in the Netherlands offers a motivating example of a real circulation plan that enables as many people as possible to the city centre without relying on the limitation of on-street car parking. Watch the success of Groningen.
Enable walking and cycling mobility to unlock the potential of Limerick retail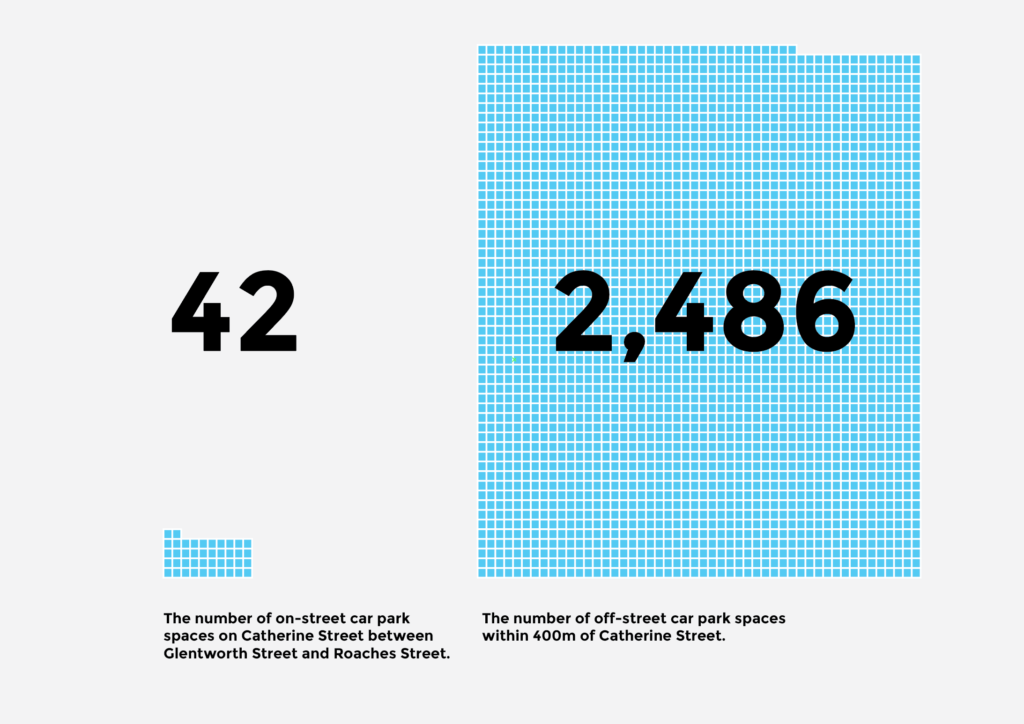 We call on Limerick City and County Council to make the most of their welcomed 2020 temporary Covid-19 mobility plan. We have made five specific points to unlock walking and cycling in Limerick city.
The mobility plan proposes making Limerick city centre more of a destination city centre for summer 2020, which we support. It has proposed to make two blocks on Catherine Street car-free for a number of hours each day. Within these two blocks there are 42 on-street car parking spaces, but an impressive 2,486 spaces are available within 400 meters of Catherine Street. The Crescent Shopping Centre offers a similarly successful model, where people park and then walk a similar distance to the centre of the mall, spending time and money along the way.
"The more people in towns equals more shoppers equals busier shops."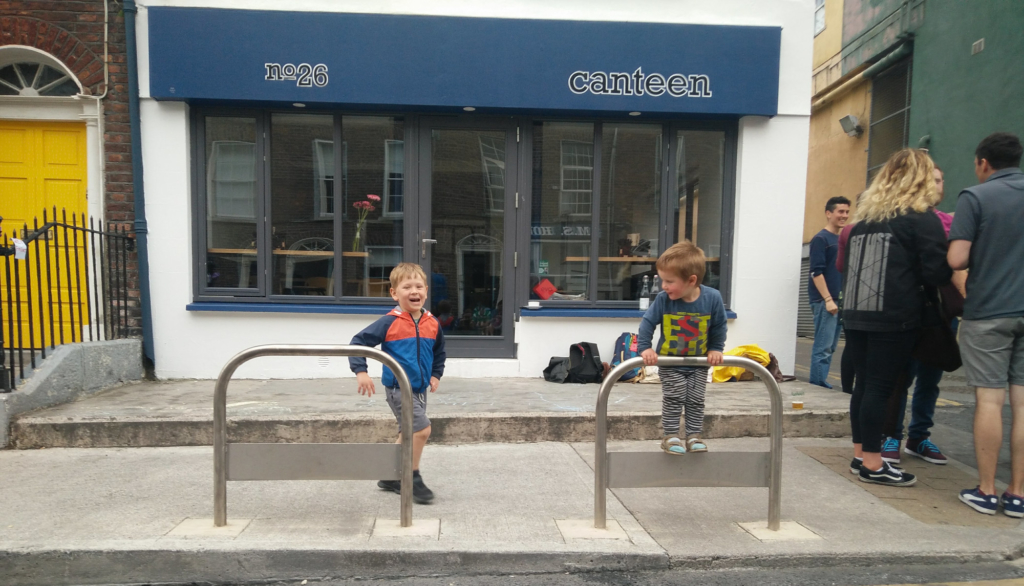 We spoke with Paul Williams, the proprietor of Canteen on Catherine Street. "I think we have to create a better city centre for everyone to enjoy. People are not thinking of Limerick City centre as a place you go for an afternoon", he said. 
He sees "real opportunity" for retail in the city centre, particularly at weekends. "Let people move from the Milk Market, up the town. Walk around and shop. And in the evenings have a vibrant evening trade where people spend time on the streets". He said, "from all I've read, the more people in towns equals more shoppers equals busier shops. If we get more people to want to get into town it's better for everyone."
On the nature of car parking spaces, Paul noted that much of the on-street parking spaces in his experience are used by people working in the city and others parking for several hours, meaning that only a small number of parking spaces are used by people popping in to purchase from a specific shop.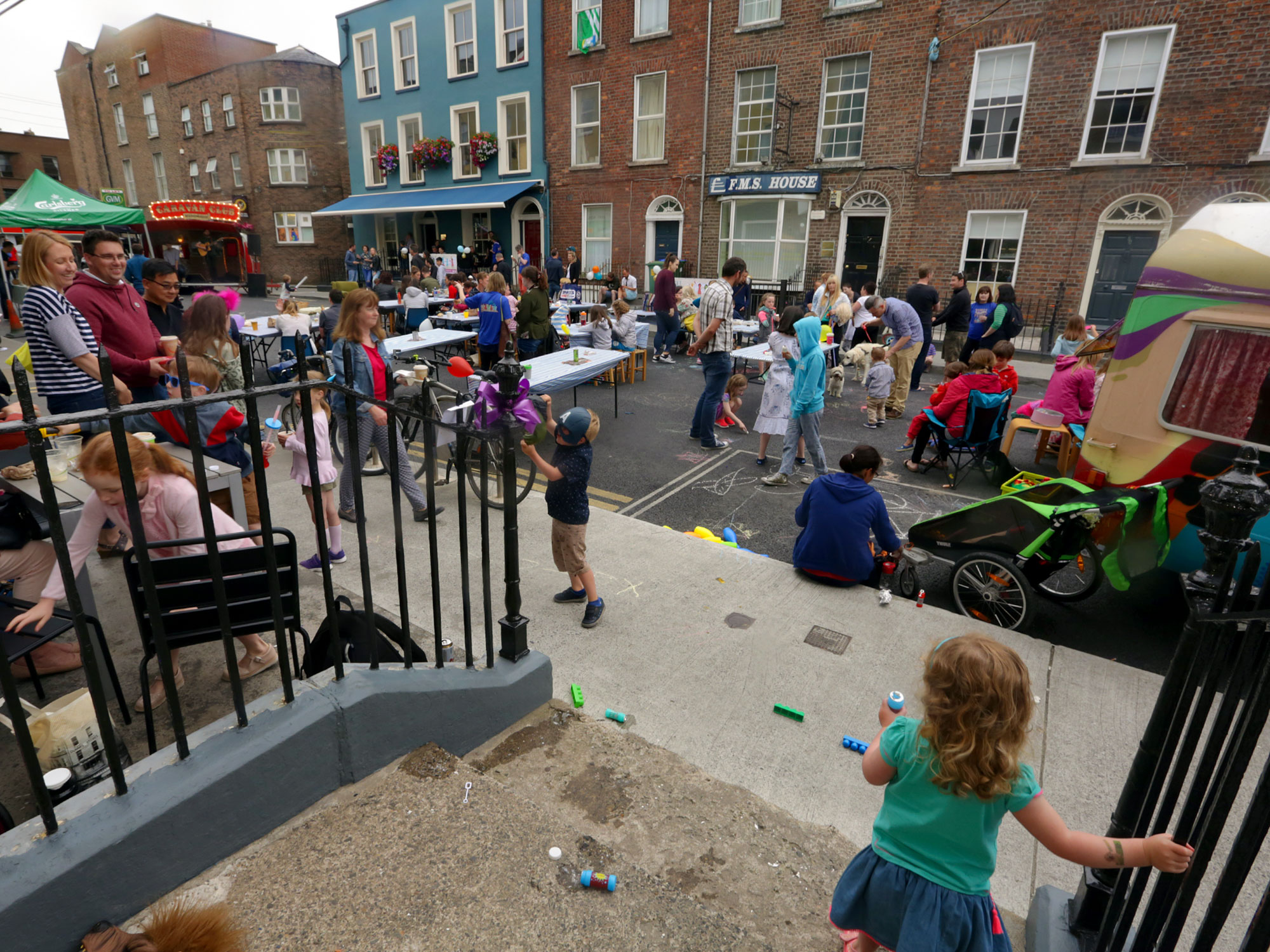 "With a bit of creativity we can really make something very nice". Rocky O'Shea, The Commercial
We also spoke with Rocky O'Shea, proprietor of The Commercial bar on Catherine Street. "We have a short window there that we can make it happen every weekend, give a bit of life back to the city."
He sees compromise and creativity as ways forward, "I do think that at certain times throughout the day, even it if it was 3pm onwards, there can be a compromise struck between everyone. It's been the same for fifty years, and something needs to change. We could trial something and see does it work." He has heard of great ideas such as park-and-collect for local retailers. "We'll have more people on the streets, with a bit of creativity and thinking outside the box, it will create a good buzz on the street with more footfall and trade all around."
Now is the time to unlock Limerick's retail
We must ensure that our city's business model unlocks the potential of our valued retailers, by also supporting the mobility of people walking and cycling to the city centre and in the city centre. We have shown that this will ultimately be a self-reinforcing business model where all retailers can better benefit from more people spending more time and money at more retailers.
Images by Deirdre Power from liveable Limerick street feast event on Catherine Street.
Recent News & Events